The game is set in the year 2040, a time when sudden dinosaur outbreaks have enveloped the world, posing a severe threat to human existence. However, amidst the chaos, the Aibius corporation provides a glimmer of hope with their advanced artificial intelligence system, Leviathan, and their revolutionary exosuits.
Piloting these exosuits, players, known as exofighters, are called upon to hold the fort against overwhelming dinosaur swarms in various team-based game modes. The overall narrative, stunning graphics, and interactive gameplay make Exoprimal not just a game but an immersive experience.
Striking a Balance between Advanced Tech and Primal Beasts
Exoprimal offers an exhilarating gaming experience, but it's not without its downsides. The game leans heavily on teamwork and cooperation, which, while enhancing the overall gaming experience, can be frustrating when paired with non-cooperative players. The game's dependency on a stable internet connection for its online-only format is another drawback, especially for players residing in areas with poor connectivity.
Moreover, the balancing of exosuits has been a point of contention among players. Some exosuits appear to be significantly more powerful than others, leading to an imbalance in gameplay. Additionally, while the concept of taking on dinosaur swarms is thrilling, the actual execution can sometimes feel repetitive and monotonous, leading to a reduced replay value.
Prehistoric Battles Unleashed
Despite the game's flaws, user impressions of Exoprimal are largely positive, with many praising the unique blend of futuristic technology and prehistoric creatures. The game's immersive storyline, coupled with its stunning graphics and dynamic gameplay, has won over many players. The idea of piloting exosuits and being a part of a team of exofighters fighting off dinosaur swarms has proven to be exceptionally appealing.
However, the game's developers should take note of the concerns raised by the players and work on improvements. Addressing the issue of exosuit balance and adding more variety to the dinosaur swarm encounters could significantly enhance the user experience and replay value.
In conclusion, Exoprimal offers an exciting and unique gaming experience that effortlessly brings together the past and the future. While it has some areas that need improvement, it holds immense potential and is definitely worth checking out for any action game enthusiast.
How much storage do you need?
Average app size in this category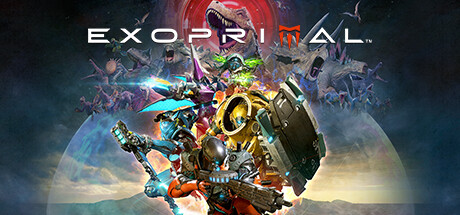 Exoprimal
Take a note. This app's size is bigger than the average in this category